Every year the who's who of Australia's B grade celebrities grace the Albert Park race track as part of the Mazda 3 Celebrity Challenge at the Formula 1 Australian Grand Prix and 2014 is no different. Once again Mazda is the brand of choice and the car chosen is the brand new Mazda3. Celebrities participating this year include:
Lauren Phillips
Rob Mills
Charley Boorman
Tim Robards
Torah Bright
Robbie McEwen
Megan Washington
Clint Stanaway
Nathan Brown
Brett Emerton
Dave Thornton
Rachael Finch
It is second time luck for former Miss Universe Australia, Rachel Finch, who was a late withdrawal from the 2013 Celebrity Challenge. This year will be different and as a confident Finch expressed "I am super excited to be involved in the race this year, it makes it even more special that my husband and daughter will be cheering me on from the grandstand. I've heard so much about the Celebrity Challenge from previous contestants and I can't wait for this new experience".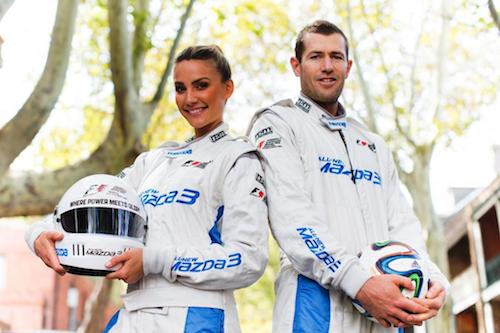 One of her challengers will be recently retired Socceroo and Premier League veteran, Brett Emerton who after almost a decade playing in the English Premier League is sure to bring that competitive spirit to the track. This is not an opportunity he plans to waste and as he says "I've had so many incredible experiences through football including being able to represent my country in the World Cup twice. The Mazda3 Celebrity Challenge is another one of those once-in-a-lifetime experiences and I can't wait to get out on the track and hopefully finish on the podium."
For us at CarHq we will be watching intently to see the thrills and hopefully spills in the Mazda 3 Celebrity Challenge at this years 2014 Formula 1 Rolex Australian Grfand Prix.
Category: News