A recent family trip to Central Australia allowed me to make use of a Nissan Patrol DX four wheel drive.  The 3.0 litre intercooled common-rail turbo diesel engine is quite a power plant.  It produces 118kW of power and 380Nm of torque and was more than adequate to allow us to cruise at highway speeds and also make it over some of the great bush tracks Australia offers.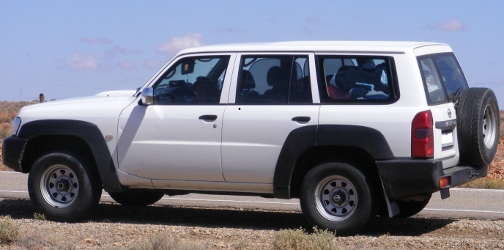 Ours had the four speed transmission which worked adequately with the engine although I would have preferred the manual gearbox.
In terms of driveability the Patrol handled well for a large four wheel drive with the steering being very responsive to the driver.  Acceleration was adequate with the automatic transmission and once the common rail diesel was wound up the Patrol cruised easily at 110kms per hour.  Passing in the range of 80 to 100kms per hour was alright once I had gotten used to the lag in downshift from the automatic transmission.  In terms of fuel economy the Patrol averaged 10 litres per 100 kms allowing a range of some 900 kms on the main tank and a further 350 kms on the sub tank.
Off road – and bear in mind we only did marked tracks – the patrol handled well.  Engaging the transfer case was seamless (although the manual locking of hubs necessitated a stop). Automatic hubs are offered on some Patrol models.  A problem which was only solved after speaking to another Patrol owner is that to disengage four wheel drive mode you need to shift from 4H to 2H while still on gravel – shifting on bitumen does not provide enough traction for the case to disengage.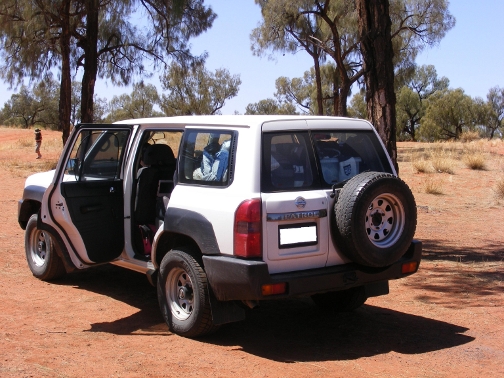 In terms of comfort the Patrol was adequate.  The seats were not uncomfortable but I did have some lower back pain after long driving periods and there was some movement in the seat when going over bumps.  The Patrol more than handled the family and their associated bags in addition to all of the camping gear we carried.  Access to the back was excellent with the dual doors allowing you complete access.  The height is perfect for moving things in and out of the back.
Affecting the overall rating of the Patrol is the lack of safety features with the Patrol showing its age only offering front driver and passenger airbags on all models.
Overall I enjoyed driving the Patrol, albeit after a testing first few days (it is very different to my usual ride), and would recommend it as a serious 4WD for Australia.
For further information:
Category: Driving Journeys, Reviews