Recently unveiled at the 2014 New York International Auto Show was the fifth generation Subaru All Wheel Drive Outback wagon. While paying homage to its cross over origins the all new Subaru All Wheel Drive Outback wagon brings with it a sleek new look while retaining its cross country and safety attributes.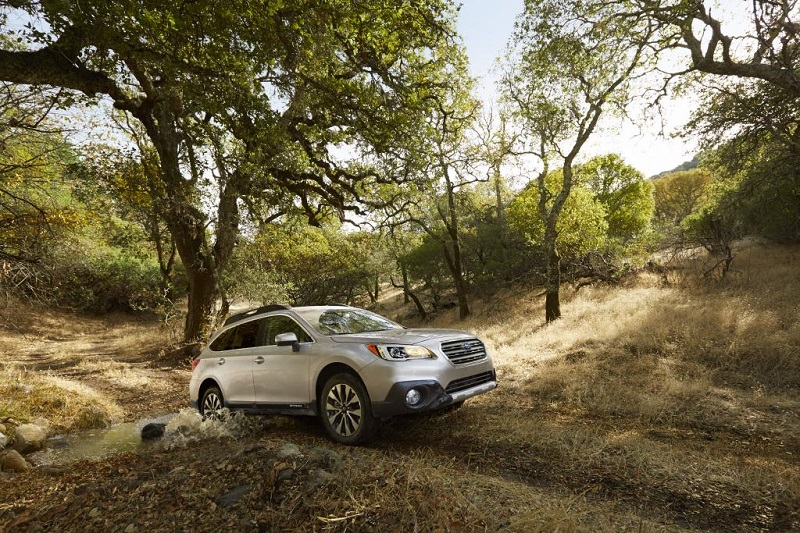 With its tough and rugged look, the new Subaru All Wheel Drive Outback combines the strengths of a passenger car and an SUV. Its off road pedigree is enhanced by its ample ground clearance, the inclusion of protective panels which cover the lower body parts, large front fog lights and functional roof rails.
Front on the all new Subaru All Wheel Drive Outback Wagon has a bumper-integrated classic Subaru hexagonal grille and hawk-eye headlights which maintain the Subaru family resemblance, while offering a more dynamic look.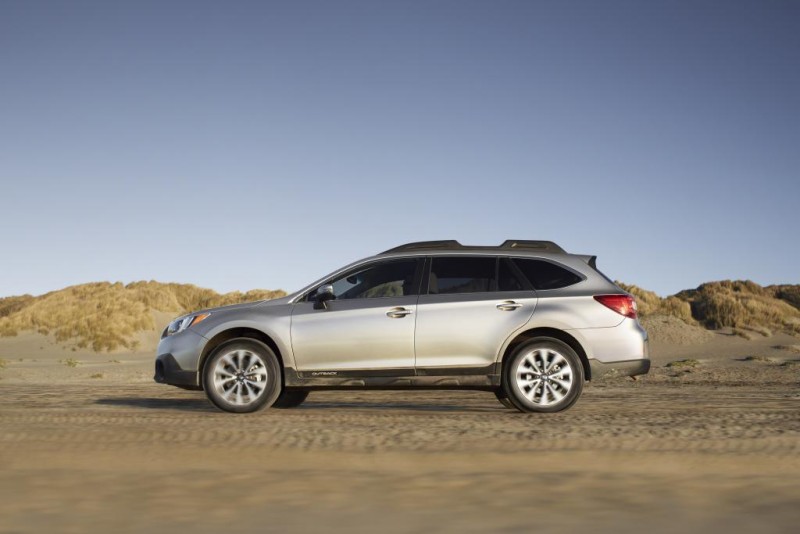 The rear combination lights share the motif of the headlights, projecting a sharp, energetic image, front and back. LED tail and
brake lights enhance the sense of quality, while improving fuel economy and night visibility.
Interior wise the Subaru All Wheel Drive Outback has also been renewed with what is being market as "comfortable and sporty". Evidence of Subaru listening to its customers is the fact that in the Outback there has been a dramatic improvement in the quality and comfort of the interior which offers what is considered a sportier driver's area and an improved infotainment system which combined should increase the overall in car experience.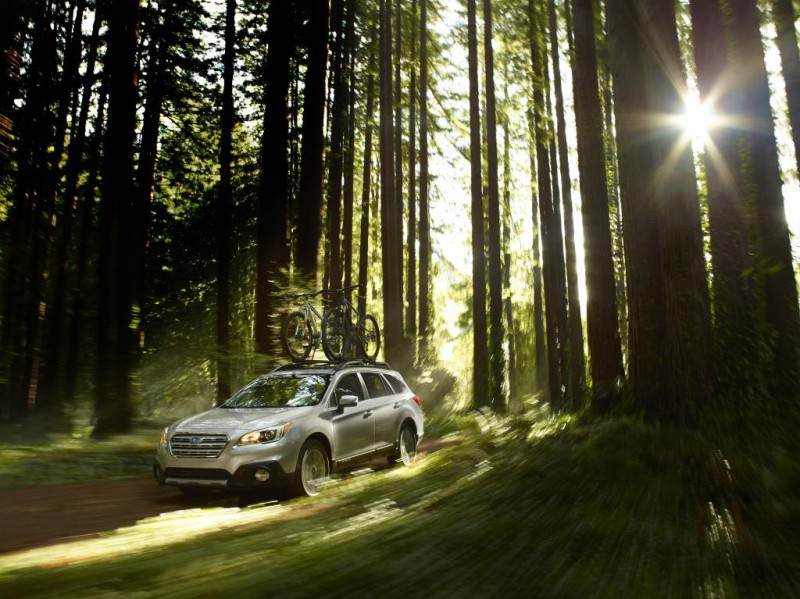 Interior finished have been enhanced which is evident in the instrument panel which features a dual blue ring illuminated gauge cluster in the centre of which is a large colour LCD panel.
Seating width and shoulder, elbow and leg room have been increased which improves both driver and passenger comfort. This has been achieved by moving the A pillar forward and the addition of front quarter windows.
Functionality has been enhanced in the Subaru All Wheel Drive Outback with more diverse and secure load-carrying options, rope hooks have been added to the crossbar-type roof rails and a step fitted to the side sill provides a foothold when loading bicycles or other items on the roof.
An optional extra is an electrically powered rear cargo door which enables automated opening and closing and which can be set to open to a
To enhance road handling the chassis, steering, suspension,  and brakes, have been refined.  The ample ground clearance is teamed with improved steering stability which should achieve higher quality ride and comfort.
In order to supress body roll body rigidity has been increased, new suspension mounting positions established and with new Outback specific alignment settings which combined  lower the centre of gravity and achieve higher ride quality without sacrificing suspension smoothness.
In addition to Subaru's unique Symmetrical AWD system, new Outback is equipped with X-Mode, capable of enhancing driving performance on poor roads through optimized integrated control ofengine, AWD, braking, and other functions on slippery surfaces.  The Hill Descent Control setting gives drivers greater peace of mind by maintaining low speeds on downhill slopes.
The Subaru All Wheel Drive Outback is powered by either:
 a 2.5 litre DOHC horizontally opposed 4 cylinder normally aspirated engine. Mid-range torque is raised on the FB25 Boxer engine, giving more control and a lighter feel in practical driving ranges. Significant changes especially to intake, exhaust, and combustion systems improve fuel economy. While retaining the previous model's structure of the intake manifold and tumble generation valve (TGV), TGV position and intake port shape are simplified to balance volumetric efficiency at higher revs with efficient combustion at lower revs, improving both power and fuel efficiency.
a 3.6 litre DOHC horizontally opposed six cylinder normally aspirated engine.  Subaru has honed the performance of its EZ boxer engine over many years, and teaming it with the high torque-compatible Lineartronic transmission improves both drivability and fuel
efficiency.
The Subaru All Wheel Drive Outback has a choice of two transmissions either the Lineartronic Continuously Variable with fully automatic electronic control or the High torque-compatible Lineartronic Continuously Variable with fully automatic electronic control.
New safety features in the Subaru All Wheel Drive Outback include the new generation Eyesight which improves preventative safety and reduces driver load. EyeSight incorporates fully revamped stereo cameras that increase viewing angle and range by approximately 40 per cent, to further improve preventative safety; and driver stress-reduction features such as Pre-Collision Braking Control and Adaptive Cruise
Control.
Overall, the Subaru All Wheel Drive Outback provides an all new take on the cross over SUV incorporating improvements in all areas from design to performance and will be released to the Australian market in early 2015.
For further information:
Category: News