Designed at Toyota's Calty Design Research in California the Toyota FT-1 concept is meant to display energy, passion and "waku-doki" or in other words a palpable heart pounding sense of excitement. When designing the Toyota FT-1 (the FT stands for Future Toyota and the 1 for Ultimate) its architects wanted to produce a concept which would provide the consumer with a taste of what they can expect to see in future Toyota production models.
Evident in the design of the Toyota FT-1 is the influence of more recent concepts such as the FT-HS and the Lexus LF-LC.
Sports coupes are nothing new to Toyota, who have a proud history of almost 50 years of producing memorable coupes such as the 2000GT , back in 1967, through to the Celica, Supre, MR2 and most recently the 86 which is recognised as Australia's best selling sports car.
The Toyota FT-1 also shows the close relationship which car design now has with gaming, with the Toyota FT-1 having originally been "virtually" devised by Calty as part of Sony Play Station's Gran Turismo before being turned into "reality" and revealed at the North American International Auto Show in Detroit earlier this year.
As with the 86, the Toyota FT-1 is clear evidence of Toyota's intention to play to the heart of car enthusiasts with key design feature including:
Retractable rear wings which deploys and tilts forward to create additional down force when travelling at higher speeds,
A front engine, rear wheel drive combination allowing the cockpit to be located far rearward within the wheelbase to emulate classic sportscar configurations while also improving weight distribution,
A low slung cockpit with a wrap around windscreen and side glass openings which pay homage to the original sports coupe, the 2000GT,
A delta shaped display zone which immerses the driver into the experience coupled with a heads up display which projects vital information just above the steering wheel.
While it is a taste of what is to come, it leaves us want to know more including technical specifications and that is exactly what a concept car is meant to do.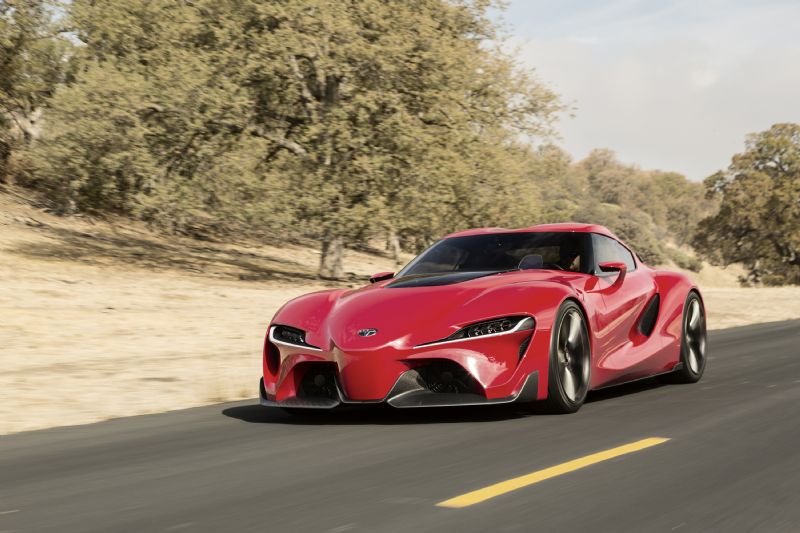 For further information:
www.toyota.com/concept-vehicles/
Category: Concept Cars