Yukon XL GMC – Traveling with a large family requires access to a special vehicle. Generally when requiring a car with more than 6 seats you are limited to traditional people movers, however in the US you have the option of a large SUV such as the Yukon XL by GMC.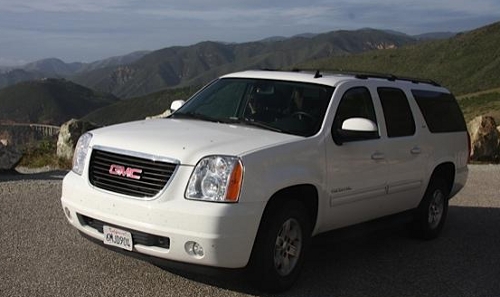 When I say large, I mean large, measuring 5.65 metres in length and 2 metres wide this vehicle can best be described as a truck. Seating 8 adults in relative comfort in a 2 + 3 + 3 configuration and with ample luggage space the Yukon XL is impressive.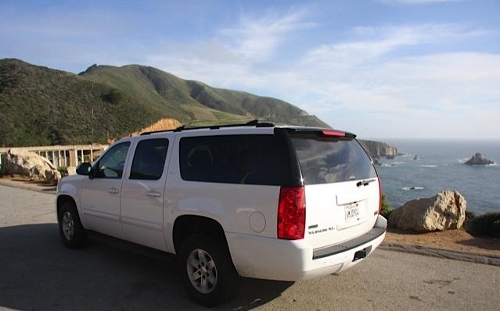 As with a lot of vehicles, made specifically for the US market, the Yukon XL has passenger comfort as its highest priority from the large leather clad seats, ample beverage holders, considerable leg room, climate control in both front and rear, and an entertainment system comprising satellite radio, and roof mounted DVD supported by numerous Bose speakers.
The white beast as our Yukon became affectionately known, also had a sun roof, cruise control, full electrics, reversing camera, park assist, keyless start and remote hatch opener.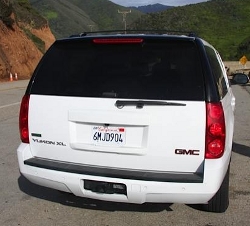 Storage space was never an issue with a variety of storage compartments available from the central compartment, the passenger side glove box, door storage wells and the voluminous rear luggage compartment which easily stored luggage for five adults and three children.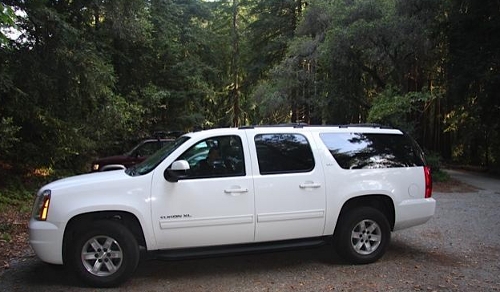 Overall quality appeared good with a finish expected for this style of vehicle.
From a performance perspective our Yukon XL was powered by a 5.3 litre V8 petrol engine. In countries other than the US a turbo diesel engine would be a preferred option, if it was available.
The engine generates enough power to have the Yukon motoring along Californian highways and byways. The limitations of the engine are noticeable  when the terrain starts to get mountainous although a simple planting of the foot kicks the engine into life.
Safety in the Yukon is not compromised with a full suite of airbags, ABS, EBS etc standard across the range and coupled with a 5 star rating the Yukon XL offers safe motoring.
Given the size of the Yukon maneuvering shopping centre car parks can be an issue but this is just to be expected.
Having test driven the Yukon for 2 weeks, I must say that overall I was impressed, not only by the way it handled or the passenger comfort but importantly the fuel economy which averaged 11 litres per 100 kilometres, albeit mainly highway driving.
The Yukon XL by GMC is therefore a viable option for the large family who do not want to be relegated to life in a mini van.
For further information: www.gmc.com
Category: Reviews